Many European and American cities have announced events in solidarity with the struggler Georges Abdallah, beginning on October 15 and continuing through October 22, 2016.
There will be a large central demonstration outside the prison where Abdallah is held in France, in Lannemezan, on October 22, with buses of participants coming from a number of French cities.
Berlin, Hamburg, Athens, New York, Milan and other cities will be holding solidarity activities with the Lebanese Arab Communist prisoner who has been held in French jails for over 32 years.
Meanwhile, the campaign in solidarity with Georges Abdallah called on all Arab forces and parties to protest outside French embassies and institutions and to pressure the Lebanese government to fully take up its political, national and human responsibilities toward the case of Georges Abdallah and ensure his free return to his homeland of Lebanon.
Source ! pflp - fplp
October 2016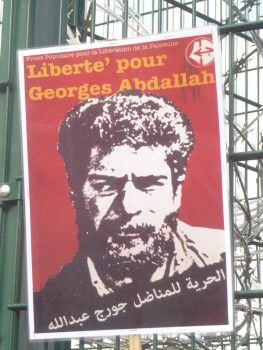 Pour être informé des derniers articles, inscrivez vous :