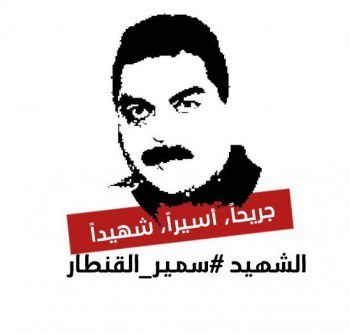 The Popular Front for the Liberation of Palestine condemned the assassination of the martyr Samir Kuntar, who was dedicated to the resistance and liberation of Palestine from a young age, and continued to struggle after his freedom from captivity in occupation prisons, for the liberation of the Golan Heights and Palestine.
The Popular Front urged all forces of Arab resistance to unite to confront the Zionist fascist forces that feed on internal division and conflict, and promote destructie schemes against the Arab people.
"This treacherous crime that targeted the struggler, liberated prisoner Samir Kuntar, confirms the extent of the Zionist enemy's hatred for the role of the great martyr Kuntar," said Comrade Maher al-Taher, member of the Political Bureau of the PFLP, denouncing the "act of Zionist terrorism that targeted the leader Samir Kuntar on the land of Syria."
"Throughout four decades of his life, Samir Kuntar was a guerilla, a prisoner, a steadfast leader and a spearhead of the resistance," said the Prisoners' Commission of the PFLP, in a statement on the assassination of Kuntar.
"As we mourn the martyr of the Arab nation and the resistance, we are proud to affirm that the leadership and struggle of Samir Kuntar, who gave so much in steadfastness and in his blood, will remain a beacon for all who fight for liberation in the world, and will remain a symbol of struggle and resistance for generations to come," said the Commmission.
Further, the Commission said, "we warn of the consequences of continuing to target liberated prisoners, which indicates the hatred of the Zionist war machine for them. This treacherous crime must be confronted and liberated prisoners must be protected from the attacks of the Zionist enemy. The blood of the leader Samir Kuntar will not create anything but more determination to continue on the same path of resistance, of Palestinian, Lebanese and Arab resistance and liberation in the Golan, of the occupied Arab lands in Bekaa, and all of Palestine."
http://pflp.ps/english/2015/12/20/pflp-condemns-the-assassination-of-the-martyr-samir-kuntar-arab-resistance-leader-and-liberated-prisoner/
Pour être informé des derniers articles, inscrivez vous :